Mishpatim Moments February 2021 Archive

"Thou shalt not exact interest from the needy among you."

Exodus 22:24
Once a year we read parsha Mishpatim, which reminds us of the importance of interest-free lending. In honor of Shabbat Mishpatim, we hope you feel inspired to learn about and make a donation to Jewish Free Loan. Help fulfill the Jewish law of interest-free lending and support JFL's vision of a thriving and financially secure Arizona Jewish community.

We currently have $1.9 million in interest-free loans out in the community benefiting Jewish households. We continue to see increased requests for financial assistance due to the ramifications of the pandemic.
---
Your donation will help transform lives.

To learn about our impact and to find resources for assistance with issues relating to COVID-19, please visit our COVID-19 Resources Page.
---
The Mishpatim Moments Calendar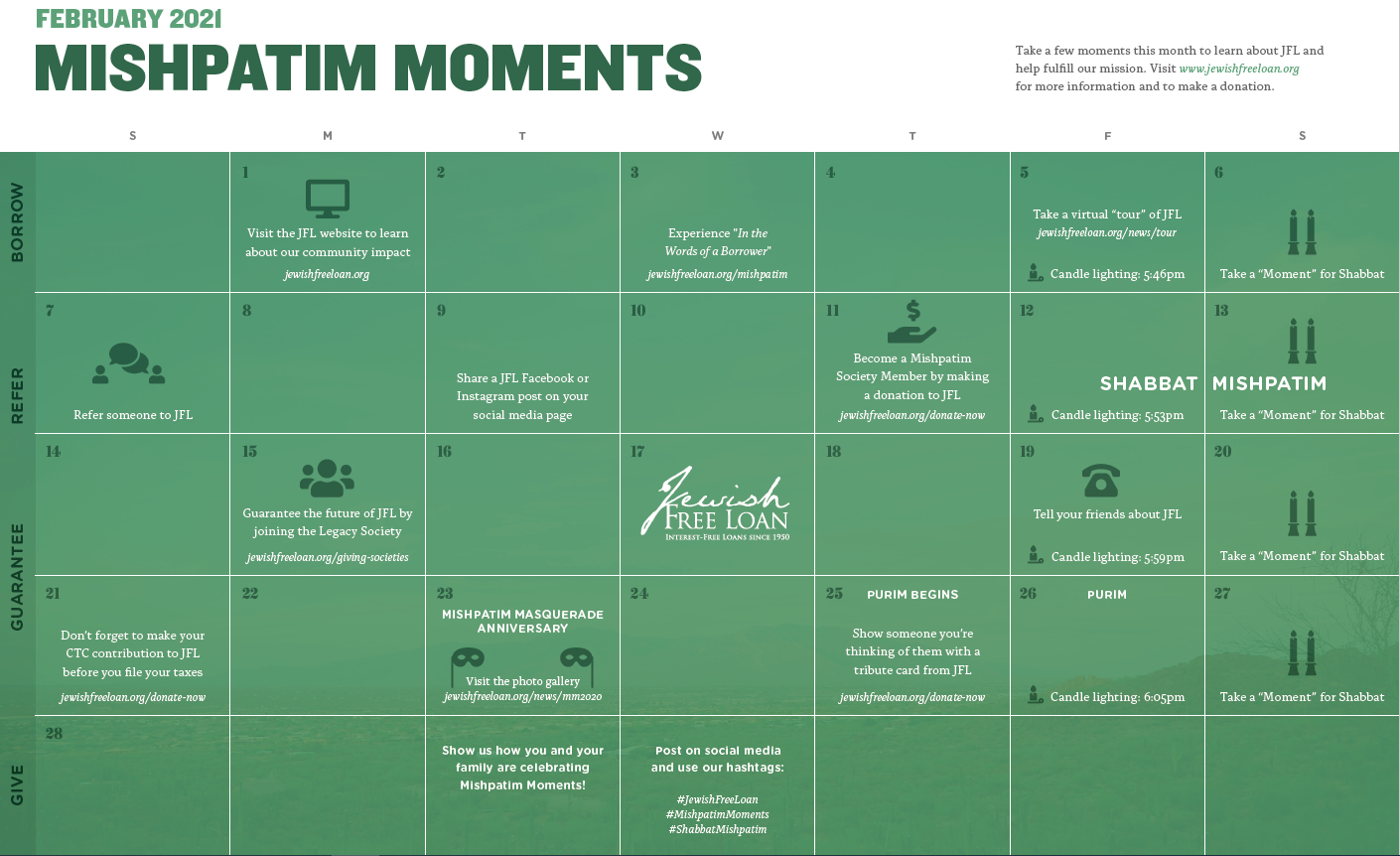 ---
In the Words of a Borrower
Alli Goozh, Community-Wide Emergency Response Loan Borrower 

"I am a giver, much more comfortable helping and volunteering than asking for support. A few months before the pandemic changed all of our worlds, I started my own business and ventured into an exciting new direction. At the time, I had no way of knowing what was about to happen. When mandated shut downs started, I was able to find resources to help manage the major impact on my business but had no idea how to handle my personal financial challenges.

Alli at her Barre Studio

A friend suggested I reach out to Jewish Free Loan, and I was hesitant – thinking of all the people who may have greater needs than mine, while also worried about paying for my house, food, bills and more. I was nervous to call, worried if the application process was going to be hard, nervous to ask for help and get a "no". I was so off-base with my worries! Everyone I spoke with was kind, gracious and supportive. The application process was comfortable and easy.

I am so grateful that JFL provides their amazing resources in our community! And that they saw the need to adapt their offerings to meet the extra needs of these challenging times."
Anonymous, Emergency & Crisis Response Program Loan Borrower, Guarantor & Donor  

"My initial need from JFL was for a personal loan. After separation, and subsequent divorce, the financial transition was a bit challenging. I had found a reasonable place to move in, but large up-front costs for deposits left me at-risk of being unable to secure the rental. Enter Jewish Free Loan. The JFL staff guided me through initial first step of the process: the application. They were able to quickly get me in for an interview and made the whole process so much easier than I expected. The interview was easy going and non-judgmental. The money was approved and made available within a day or so. I was able to secure the apartment, meeting the upfront demands thanks to the loan funds received. After moving in, work improved, and I have been able to sustain continued success and steady myself since.

The Triple Crown

Shortly after completing the repayment of my own loan, my mother found herself in a bind. She had been living on her own, but her health changed drastically. She became very ill, and very in need of assistance. She could not stay where she was and needed a quick turnaround herself for medical and moving expenses. Only having two days to move from a place that could no longer accommodate her needs to a facility where she could be taken care of, there wasn't much time or resources readily available. Again, JFL stepped up. They called my mother and walked her through the application from her hospital bed. Then they quickly arranged for a very accommodating and quick interview and loan approval. I, by the way, became the guarantor for my mother on this loan, setting the stage for the second part of my JFL journey. This also allowed me to quickly get my mom's belongings packed up and moved out while JFL helped alleviate the financial burdens.

And now, I've became a donor myself. I had the wonderful experience to attend JFL's 70th anniversary celebration, during which I truly "hit the Triple Crown" with Jewish Free Loan. I was so excited when, during the request for support, I was able to become a donor, making a contribution that evening and supporting the work of the organization ever since.

From borrower, to guarantor, to donor, JFL has been there as a compassionate, caring, and wonderful organization for me, my family and the community."
For more stories from borrowers, donors and supporters of JFL, please visit our "70 Stories for 70 Years" Gallery.
---
Take a Virtual "Tour" of JFL
Meet our staff, see our office and learn more about JFL all from the comfort of your own home.
What Does Mishpatim Teach Us?
Join Rabbi Isaacs, JFL Board Member and Rabbi of Beth Joseph Congregation, for some insight into parsha Mishpatim.
Interested in learning more about the impacts and history of the Jewish Free Loan Movement? Check out this article by respected scholar and friend of JFL, Steven Windmueller.
Learn About Our Giving Societies
Click the images below to learn about JFL's different giving levels and their significance. For more information please contact Aviva Levine, JFL Development Associate, at [email protected] or (602) 230-7983.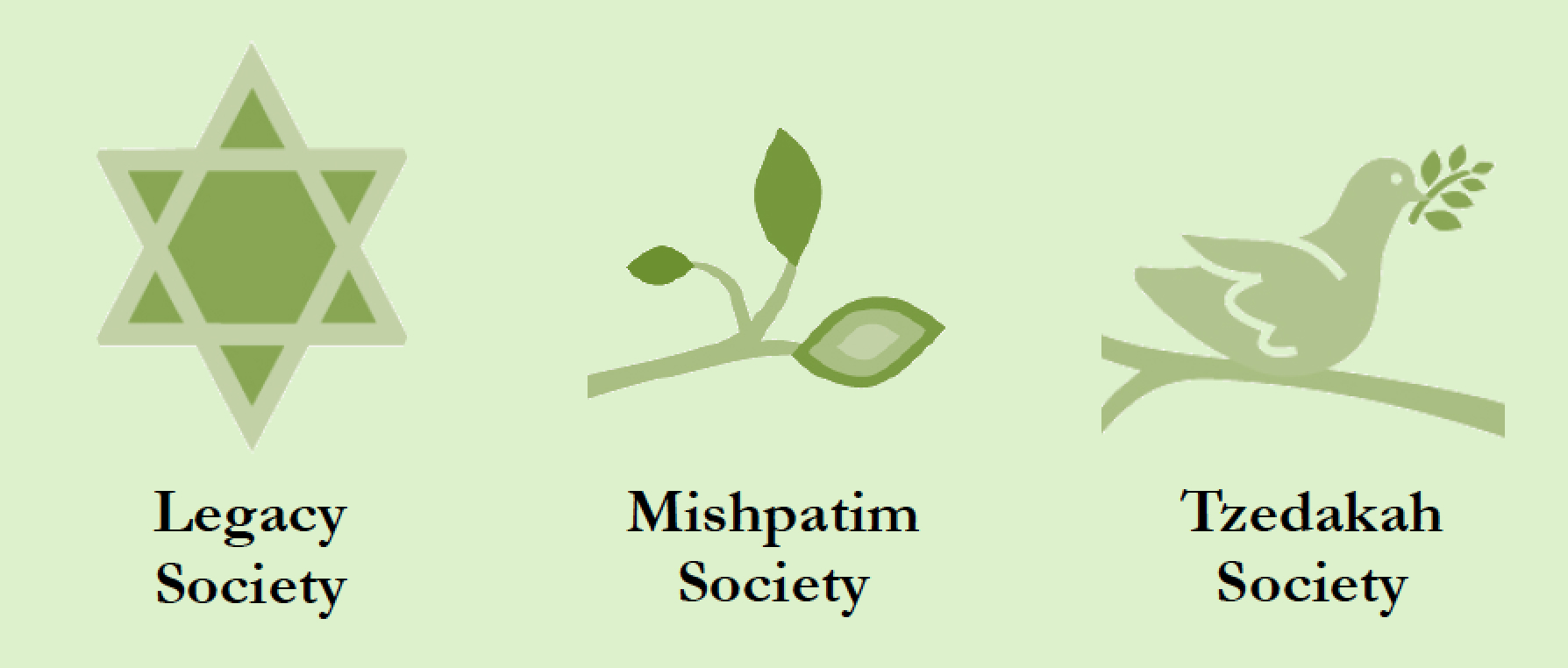 Visit the Mishpatim Masquerade Photo Gallery