We Are Here to Help: JFL's Response to the COVID-19 Pandemic
---
Emergency Loan Options
The Community-Wide Emergency Relief Loan Program (CWDR)
This program focuses on making interest-free loans when the community is faced with man-made or natural events that are beyond anyone's control, and where the need for financial assistance is time sensitive. These needs may include, but are not limited to, childcare expenses, educational costs, rent, utilities, insurance payments and medical needs. This program enables JFL to expedite requests for assistance, which have and will continue to benefit individuals and families impacted by COVID-19 for the foreseeable future.
Economic Crisis Response Program (ECRP)
Run in partnership with Jewish Family and Children's Service Helping Hands Program, the ECRP is an ongoing part of JFL's loan program which is designed to help individuals and families meet their basic needs. Currently, it is also assisting those who are affected by the impacts of COVID-19.
If you are in need of assistance, please contact us today. We have numerous options available and will do our best to help meet your needs.
Hours of Operation
Monday-Thursday 9:30am-4:00pm
Friday 9:30am-2:30pm
---
Community Resources
---
By the Numbers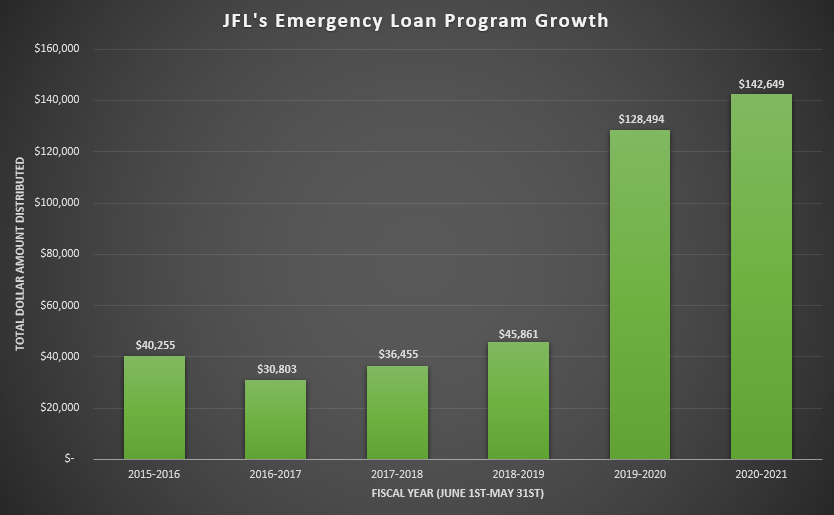 Over the past year, JFL provided 100 grocery and gas gift cards to JFL borrowers and households in need through community partnerships. This is an ongoing program.
Household goods (including toilet paper, sanitizer, and toiletries) are also distributed to borrowers in need as part of an ongoing initiative.
Demand is still high for COVID-19 related loans and is increasing in other traditional loan categories as well. Please consider making a donation to support our efforts.
---
Special Thanks
JFL would like to thank the Jewish Federation of Greater Phoenix for their generous grants totaling $80,000, which is helping to support our efforts to provide interest-free loans to Jewish individuals and families in financial distress. The money was awarded as part of the Jewish Federation of Greater Phoenix Emergency Fund.

Thank you to the Jewish Community Foundation for their generous grants totaling $27,500. These funds will support the provision of interest-free loans, as well as food and gas cards to Jewish individuals and families experiencing emergency situations and particularly challenging times. These funds were provided through JCF's COVID-19 Emergency Response Fund.
We are also thankful to the many community partners, volunteers, board members, donors and friends who make it possible for us to meet the needs of our community.